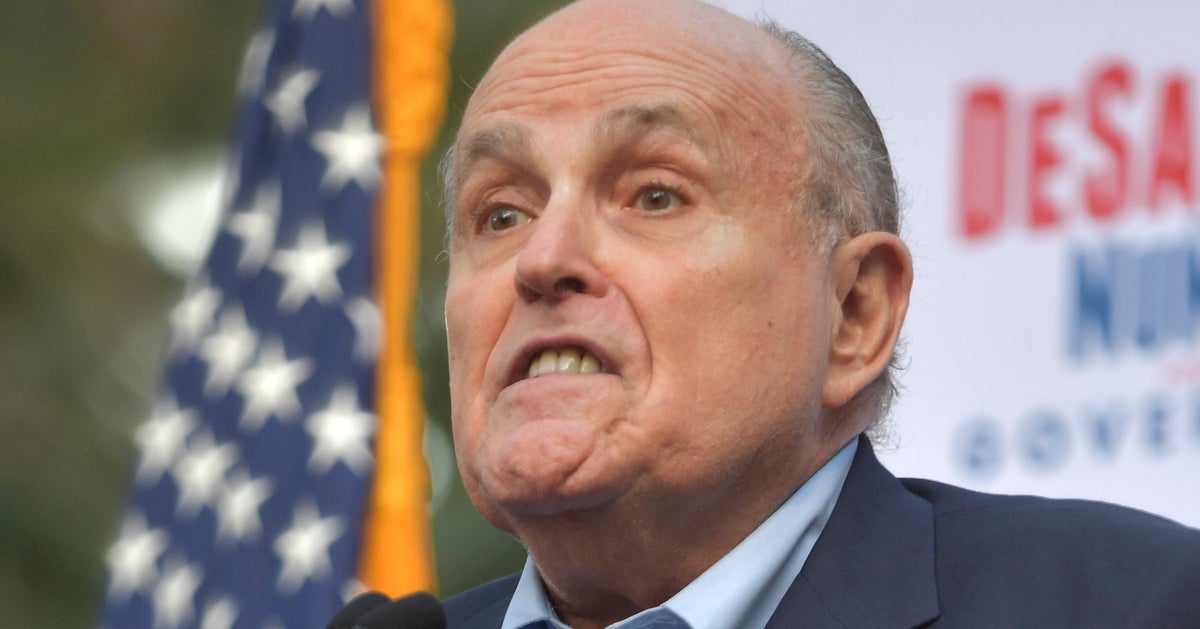 Rudy Giuliani pushed out a conspiracy theory about Twitter on Tuesday because he apparently doesn't know how the internet works.
The saga began before the weekend when Giuliani, who is President Donald Trump's lawyer and adviser on cybersecurity issues, inadvertently created a URL with this typo-ridden tweet:
Mueller filed an indictment just as the President left for https://t.co/8ZNrQ6X29a July he indicted the Russians who will never come here just before he left for Helsinki.Either could have been done earlier or later. Out of control!Supervision please?

— Rudy Giuliani (@RudyGiuliani) November 30, 2018
His failure to leave a gap between "G-20." and "In" meant Twitter interpreted it to be a website (.In is the internet domain extension for sites in India.)
The social media platform automatically added a hyperlink over the text. Someone noticed G-20.In was unregistered, bought it for themselves and posted the message "Donald J. Trump is a traitor to our country." It meant Giuliani was unintentionally linking to the anti-Trump message. His tweet is still live.
The grade A trolling finally came to Giuliani's attention Tuesday.
Here's how the former federal prosecutor and former New York City mayor explained it:
Twitter allowed someone to invade my text with a disgusting anti-President message. The same thing-period no space-occurred later and it didn't happen. Don't tell me they are not committed cardcarrying anti-Trumpers. Time Magazine also may fit that description. FAIRNESS PLEASE

— Rudy Giuliani (@RudyGiuliani) December 5, 2018
With his tweet, Giuliani appeared to question why a link hadn't also been placed over the section "Helsinki.Either" ― where he'd further failed to leave a space.
However, there is no domain extension for .Either. Fellow Twitter users inevitably had some fun with his gaffe:
Sorry, Rudy… you weren't supposed to get that. Running some tests on the Soros-funded Deep State emergency SMS notification system rn

— William LeGate (@williamlegate) December 5, 2018
The internet is on computers now, Rudy

— Lean Malenko Ⓜ️ (@duderibe) December 5, 2018
I get it. Websites can be a bit technical, but c'mon! Rudy doesn't even know how spacebars work.

— 🏝Kim (@kim) December 5, 2018
so you have the audacity to brand yourself as a "cybersecurity expert" but you don't even know how domain name registration works

maybe, uh, retire

— Midnight Jon 🌹 (@MidnightJon) December 5, 2018
I would pay big money to watch someone explain to you what actually happened.

— overlord! (@overlordusa) December 5, 2018
Someone merely capitalised on your bumbling illiteracy. You're painting it as some sort of orchestrated leftwing Twitter conspiracy. You got outsmarted and humiliated which, let's face it, isn't difficult.

— Mike P Williams (@Mike_P_Williams) December 5, 2018
Tonight's episode of "Grampa Can't Understand the Internet" is *horrible*

— Kevin M. Kruse (@KevinMKruse) December 5, 2018
Punctuation is important. In ways that you never thought before 😄

— Dorin Moise (@dorinmoise) December 5, 2018